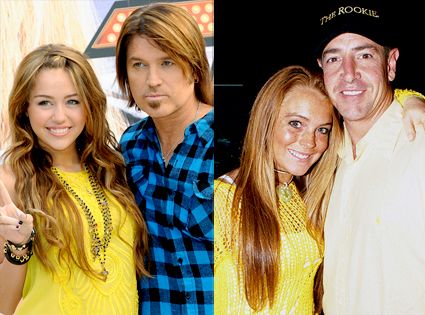 Michael Lohan has posted an open letter to Billy Ray Cyrus, following comments he made about the effect of Hannah Montana on his family.
Earlier this week, Billy Ray blasted the Disney show for 'destroying' his family, as daughter Miley Cyrus shot to fame portraying the titular character.
Michael Lohan has since penned a response to Billy Ray, sympathising with his position.
He wrote: "Am I seeing and reliving almost the same exact situations, scrutiny, pain and willingness to sacrifice yourself, for the sake of your family?
"As hard and frustrating as it is, believe me when I say, it's a road worth traveled. Even if it may have its bumps and grinds along the way."
Lohan continued: "As I was raised, there is nothing like the love a man has for his family nor is there any length he will go to save or protect them. The hardest part is, experiencing the pain that comes from the resistance of the very one(s) you are trying to save...
"To that end, I want to say, that I know what you are going through, I feel your pain and frustration, and I also admire your strength, dedication and love, for your family in the name of God."